JANUARY 2018 EVENTS
Nutrition and Multiple Sclerosis  Presented by Dee Harris
January 10, 2018
12 pm – 1 pm
Locations:  MS Society of SW Florida,
3372 Woods Edge Circle, #103
Bonita Springs, FL 34134
Call- 239-435-1901
---
CANCER EDUCATION GROUP- MONTHLY PRESENTATIONS. January will be our first of the series
This is an educational group only.  The goal of the group is to be empowered, educated and reduce fear.  The classes are not a substitute for medical care and we will not be offering individual counseling at these meetings.  We will discuss many aspects of cancer prevention, treatment and minimize side effects of conventional treatment.  We will also discuss alternative modalities.  Future meetings will include topics such as Sleep; Meditation; Stress and Cancer; Toxins and Detoxification; Nutritional support for the Immune system and Cancer.
Wednesday JANUARY 24th, 2018 –  5:45 pm – 7:00 pm
Introduction to Nutrition and Lifestyle in Optimizing the Body's Defense Against Cancer
Where:  WellBridges, 9200 Bonita Beach Rd. Suite 213,  Bonita Springs FL 34134
RSVP: 239-676-5249
Cost-  This first session is complementary.  We ask that you bring a non- perishable organic item as a love donation for the local food bank.  Next 5 in the series are $20.00 per session per person.  5 prepaid- $80.00.
---
Download our E-Book!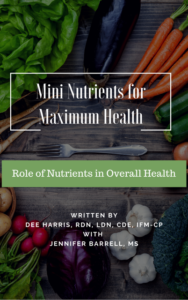 Learn how the micronutrients affect your health!