April 2018 EVENTS
Cancer Education Series
March 21, 2018
Topic-  An Introduction to Alternative Cancer Treatments
5:45-7:00 pm
Call- 239-676-5249
---
CANCER EDUCATION GROUP- MONTHLY PRESENTATIONS. 
This is an educational group only.  The goal of the group is to be empowered, educated and reduce fear.  The classes are not a substitute for medical care and we will not be offering individual counseling at these meetings.  We will discuss many aspects of cancer prevention, treatment and minimize side effects of conventional treatment.  We will also discuss alternative modalities.  Future meetings will include topics such as Sleep; Meditation; Stress and Cancer; Toxins and Detoxification; Nutritional support for the Immune system and Cancer.
APRIL TOPIC:  Stress, Sleep and Cancer
Wednesdays-   April 18th, May 16th and June 13th
5:45 pm – 7:00 pm
Where:  WellBridges, 9200 Bonita Beach Rd. Suite 213,  Bonita Springs FL 34134
NOTE LOCATION CHANGE FOR May 16th Class:  will be located at D-Signed Nutrition Office at 3531 Bonita Bay Blvd.  Suite 300, Bonita Springs, FL 34134
RSVP: 239-676-5249
Cost-  $20.00 per session per person
Download our E-Book!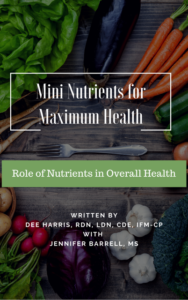 Learn how the micronutrients affect your health!