Dee Harris is a Registered Dietitian-Nutritionist, Licensed Dietitian-Nutritionist, Certified Diabetes Educator and an IFM – Certified Practitioner. Her practice provides personalized Medical Nutrition Therapy and individualized Wellness Plans supporting patients on the path to reaching their health goals. She graduated from the University of Georgia and completed her Dietetic Internship at the Weill Cornell Medical College in New York City. Her practice is built upon a solid foundation of clinical experience spanning 30 years that encompasses a myriad of nutrition, health, and wellness solutions. In her private practice, Dee works closely with clients to identify and remedy the underlying causes of complex chronic diseases. She develops individualized patient centered solutions including nutrition, diet, and health coaching to treat and prevent illness. Her practice philosophy includes integrating science based alternative and integrative modalities with traditional western medicine. Dee is a member of the American Academy of Nutrition and Dietetics, The Institute for Functional Medicine, and numerous other practice groups and associations. In addition, she is a frequent lecturer, guest speaker, and panelist. She has contributed to articles in local and national magazines. As well as her own private practice, Dee was previously the nutritionist for the Perlmutter Health Center, where she worked with Dr. David Perlmutter, author of Grain Brian.
"I have had the great opportunity to work closely with Dee Harris over the past several years and it continues to be a wonderful experience. Dee possesses an incredible depth of knowledge perfectly in tune with the latest science in the nutritional arena, and this is coupled with compassionate dedication to her work."
– David Perlmutter, MD, functional neurologist and best selling author of "Grain Brain, and Power Up Your Brain"
"My visit with Dee was wonderful! The most helpful thing my doctor recommended was to see Dee for nutrition counseling. She was outstanding and I am following the plan with confidence and success." – Lesley
---
Jennifer Barrell has a Masters degree in Human Nutrition and Functional Medicine from College of Western States. She is a Certified Nutrition Specialist and Licensed Dietitian/ Nutritionist. She has over 10 years experience as a chef and more than 8 years as an educator both in the classroom and in administration. She has now turned her focus to nutrition education and counseling using the principles of functional medicine. With her passion for science and research combined with her love for cooking, she is able to identify clinical issues and develop personalized Medical Nutrition Therapy, lifestyle and meal plans. Her focus is family nutrition dealing with clinical conditions including gut, food allergies and sensitivities as well as many other conditions. She also helps people succeed in personalized weight management programs as well as nutrition for prevention and anti-aging.
In her free time, Jennifer enjoys spending time at the beach and playing music with her two lovely daughters and husband.
---
Jennifer Staesser will welcome you to D-Signed Nutrition with her warm smile and gentle way. Jenn joined D-Signed Nutrition in August, 2016 as Office Manager.
Jennifer and her family moved to Fort Myers, FL in 2006. She specializes in office administration. Jennifer has worked with local businesses in both the general contracting and legal fields. Nothing has been as exciting for her, though, as learning about functional nutrition in her role as office manager for D-Signed Nutrition. While running the front office, booking appointments for patients and filling supplement orders, Jennifer has been gleaning knowledge that has improved her own health and is impacting her family as well!
---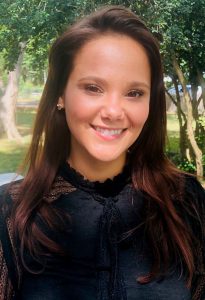 Katie Stimmel is a Registered Dietitian Nutritionist and a Licensed Dietitian Nutritionist. She graduated with a Bachelors degree in Dietetics and Nutrition from Florida International University, where she also completed her dietetic internship. Katie has an accompanying Bachelors degree in Psychology from Florida International University which she finds complementary in aiding clients to achieve their health goals.
She has special interest in understanding how lifestyle behaviors have an impact on health, specifically nutrition. Having struggled with her weight since childhood, Katie provides a unique understanding of it's not just putting down the donuts that facilitates weight loss. Combining a whole foods approach with the principles of functional medicine, Katie will work to get to the root of your health concerns via personalized menu and lifestyle planning and nutrition education.