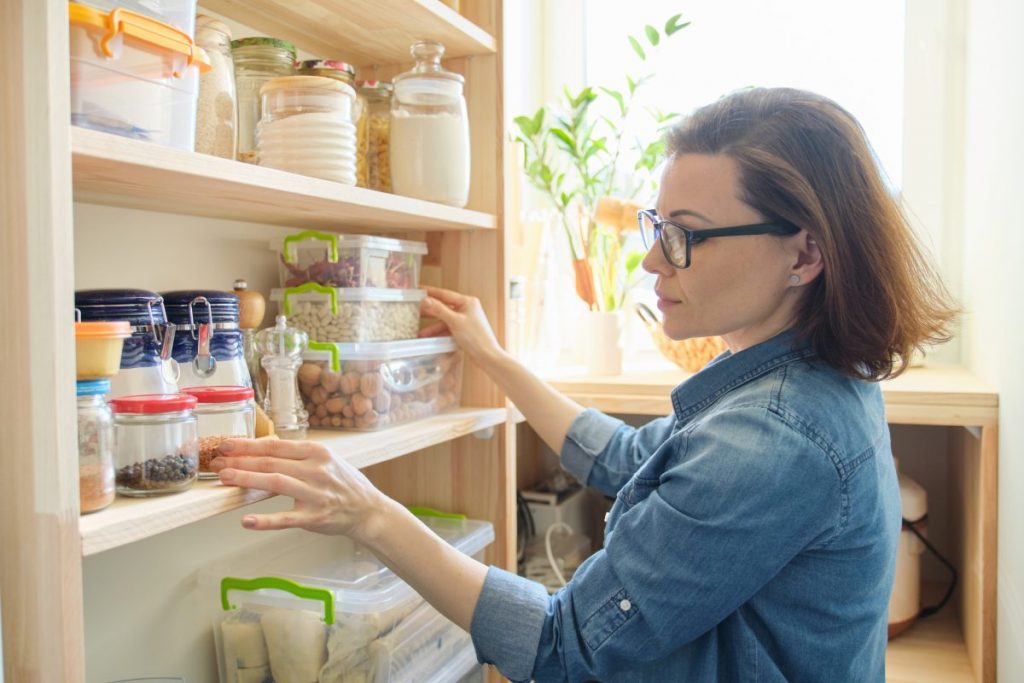 Stay safe at home during COVID-19 pandemic. Being forced to nest may motivate your inner chef. Be prepared with this list of foods for your pantry and fridge.
Grocery shopping may be a challenge at this time. With limited stock in the local stores, consider online ordering or order and pick up. In some areas, food service companies, such as Sysco have set up distribution sites at country clubs and restaurants. Whole Foods has delivery in many areas for Prime members. Walmart and Target take orders online with curbside pick-up.
Many restaurants are open for pick up or delivery.  Check your area.  However, if you want to try to cook amazing meals, you need a few things for your kitchen.  Here are pantry/ refrigerator lists and a Curry recipe recommended by our dietitian, Katie Stimmel, RDN. 
Accoutrements:
Sauces and condiments: salsas, hummus, guacamole in smaller containers, marinara sauces, Chinese food sauces, and Indian sauces: One packet of seasoning can be added to an entire meal of healthy protein, rice, and veggies.
Herbs and spices: taco seasoning, Old Bay seasoning, curry seasoning, chili seasoning packet, salt and pepper, cinnamon, fresh herb pots will last for at least a month (think of the basil ones they have at Publix).
Bouillon cubes and/or broths. Coconut oil, olive oil, avocado oil
Produce:
Large bag of kale/spinach to freeze to add in smoothies, soups, and curries and chilis and sautéed veggies. Pack washed and dried greens in a large baggie and lay flat in the freezer.
Fermented veggies: sauerkraut and pickles, jalapenos, olives. Veggies with long shelf life: onions, garlic, potatoes, sweet potatoes, butternut squash, carrots, celery, cabbage, beets. But lots of veggies like peppers, broccoli, cauliflower, snow peas, can be bought and if not used in a week can be thrown in the freezer to be used in soups etc.
Fruits: apples, lemons, limes, oranges and similar citrus, and pomegranates can last for weeks when stored correctly. Buy extra fresh berries etc, and when you notice them begin to wilt, throw them in a container in the freezer and use them as a sweet snack, add to cereals, yogurts, and oatmeal, or to make a smoothie. Don't throw out bananas when they begin to brown, peel and freeze them and use them in smoothies or to make some banana bread.
Grains:
Oatmeal: can be used for breakfast or in overnight oats, also can be used for baking.
Pasta, Rice, Quinoa: great protein-rich grain
Flour: whether it be gluten-free version or regular flour. Buy yeast packets as well. Bread: freeze what you won't use this week.
Cereals and granola
Plant-based protein:
Beans and Legumes: all kinds. Canned or dried. Tofu: can be frozen; or tofu crumbles,
Nuts: all varieties, Nut Butters: all varieties
Animal Protein:
Eggs: last for weeks,
Packets of tuna and chicken
Frozen fish and chicken breast
Ground beef- frozen in 1 lb packs.  (grass-fed is preferable)
Steaks and chops – frozen individually
Yogurt, also good to freeze some and eat as a healthy frozen snack
Snacks: Rice cakes, popcorn, nuts, trail mix, dark chocolate, Protein or nut bars such as Kind Bars, RxBars, dried fruit
Canned Vegetables: Canned tomatoes, jars of tomato sauce, canned beans
RECIPES
MOCHA SHAKE: With chocolate plant-based milk, coffee, a little nut butter (almond or peanut) and a scoop of protein powder. I blend in a ninja with crushed ice.
FRUIT SHAKE: With vanilla plant-based milk, a scoop of protein powder, one cup of fruits (I like berries and tropical fruits like mangoes and pineapple), Kale. Add crushed ice and blend.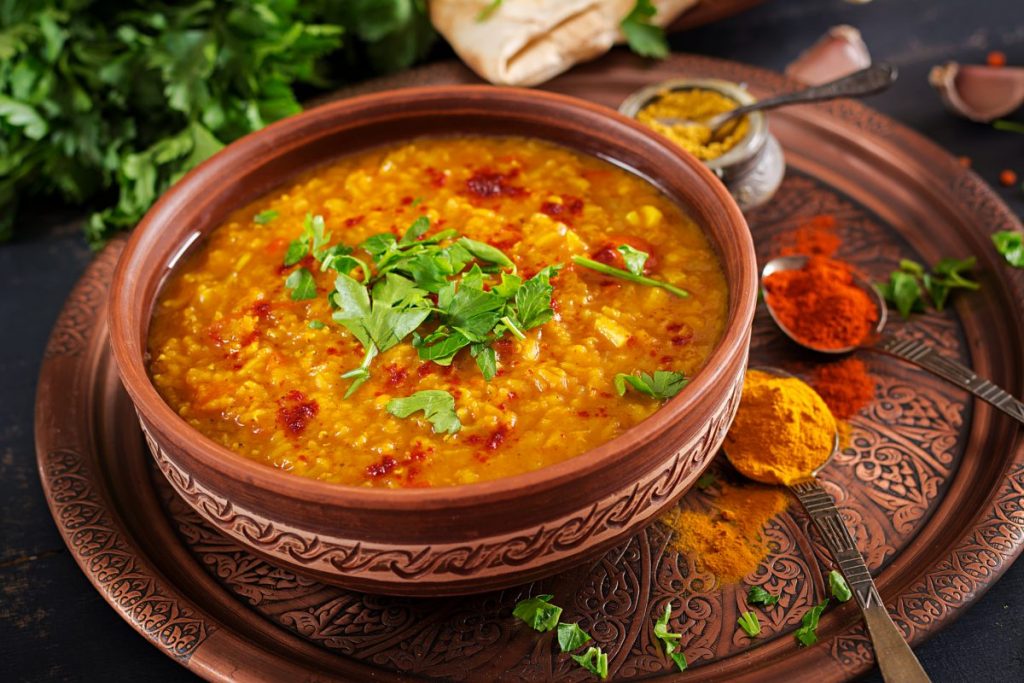 CURRY AND VEGETABLES
This is one of Katie's favorite recipes. She likes to "wing it" by switching up the recipe with other vegetables.
Serves 3-4
Ingredients:
2-3 tablespoons coconut oil
1 large onion, diced
3 cloves of garlic, minced
3 Idaho potatoes, peeled, chopped
2-3 cups of kale – chopped in small pieces
1 teaspoon salt
2 tablespoons of curry seasoning
1 can chickpeas, drained
2-3 cups of kale, spines removed, frozen or fresh
For non-vegetarian options- add cooked chicken or shrimp to the curry mixture.
Directions:
In large sauté pan, sauté onions in coconut oil approximately five minutes until onions begin to brown, over medium heat. Add minced garlic, continue to cook until onions are browned- caramelized but not burned.
While onions are cooking, peel and chop the potatoes. Once onions are finished cooking, add potatoes, add just enough water to cover the potatoes and add curry seasoning and salt to the water. Slightly stir, cover and let simmer for approximately 10 minutes until potatoes are beginning to soften. Add in can of chickpeas and kale, stir and recover until kale wilts and potatoes are cooked through.  You may need to add water, so vegetables don't stick. 
Add cooked chicken or shrimp, if preferred and stir well.