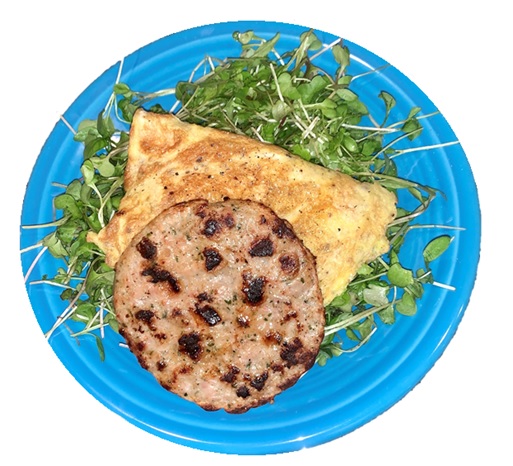 Enjoy this simple, delicious and healthy low-calorie and organic breakfast dish as you're dashing out the door. It takes just 5-6 minutes to prepare and is an excellent well-rounded alternative to breakfast cereals, toast or granola which can be heavy in carbohydrates and sugars. The chicken-apple sausage and egg are good sources of protein, while the micro-greens provide many important nutrients that will hep your body thrive. Substitute the egg for 1/4 cup of liquid egg whites for a lower-fat option. Enjoy with a 1/2 cup of mixed berries, renowned for their anti-oxidant properties. Add a dash of ground black pepper for flavor.
Prep. instructions:
Lightly spray pan with extra virgin olive oil spray and turn heat to Level-7
Cook the sausage patty for 2 minutes on each side, remove and set aside
Crack an egg into a bowl and whisk, add to pan and cook for 1 minute on each side
Optional: add cheese, fold eggs over cheese allowing it to melt (~30 seconds), add black pepper
Thoroughly rinse and dry micro-greens
Assemble and enjoy!
Ingredients
Nutritional Info.
1 Applegate Chicken & Apple Sausage Patty
1/2c Microgreens
1 Egg
Optional: 1oz Goat cheese
Optional: Julian Bakery
Calories 140 kcal (+80 for cheese, +90 for wrap)
Carbs 6g (+1 for cheese, +15 for wrap)
Protein 12g (+5 for cheese, +3 for wrap)
Fat 9g (+6 for cheese, +5 for wrap)
Fiber 0g (+9 for wrap), Sugar 1g, Cholesterol 0mg (+25 for cheese), Sodium 285mg (+91 for cheese, +85 for wrap)
*Recipe yields 1 serving
Product links:
https://applegate.com/products/breakfast-sausage/category
https://julianbakery.com/product/paleo-thin-wraps/