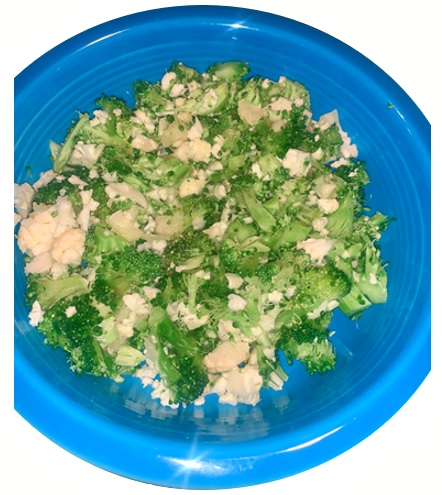 Munch on these tasty cruciferous vegetables while detoxing your liver!
Health tip: Be sure to drink plenty of water to promote blood circulation and help absorb the nutrients.
Ingredients
Nutritional Info.
2c Broccoli (chopped)
1c Cauliflower (chopped)
1T Extra virgin olive oil
1 Lemon (juice)
1/8t salt
Calories 220 kcal
Carbs 14g
Protein 7
Fat 15g
Fiber 7g, Sugar 6g, Cholesterol 0mg, Sodium 382mg
Mix all ingredients. and season to taste. This keeps in the refrigerator for a day, if you want to mix it in advance.
*Recipe yields 1 serving
Source: Guan, Y. S., & He, Q. (2015). Plants Consumption and Liver Health. Evidence-based complementary and alternative medicine: eCAM, 2015, 824185. https://doi.org/10.1155/2015/824185