Blueberries are a nutritional powerhouse offering antioxidants that have been shown to reduce DNA damage by reducing free radicals. This helps to protect our brain, heart, cardiovascular system, and immune system.
We often find blueberries in dessert recipes, which may be less healthy because of high amounts of sugar and fat. Here is an easy recipe that still offers a crunch. I have substituted the traditional high sugar butter topping with a sprinkle of granola and walnuts. This helps keep the calories of this delicious and satisfying dessert to only 186 calories for a serving. A serving is also going to give you 5 grams of fiber. You may also use this recipe and substitute other fruits such as chopped apples or peaches to have a new variation of fruit crisps.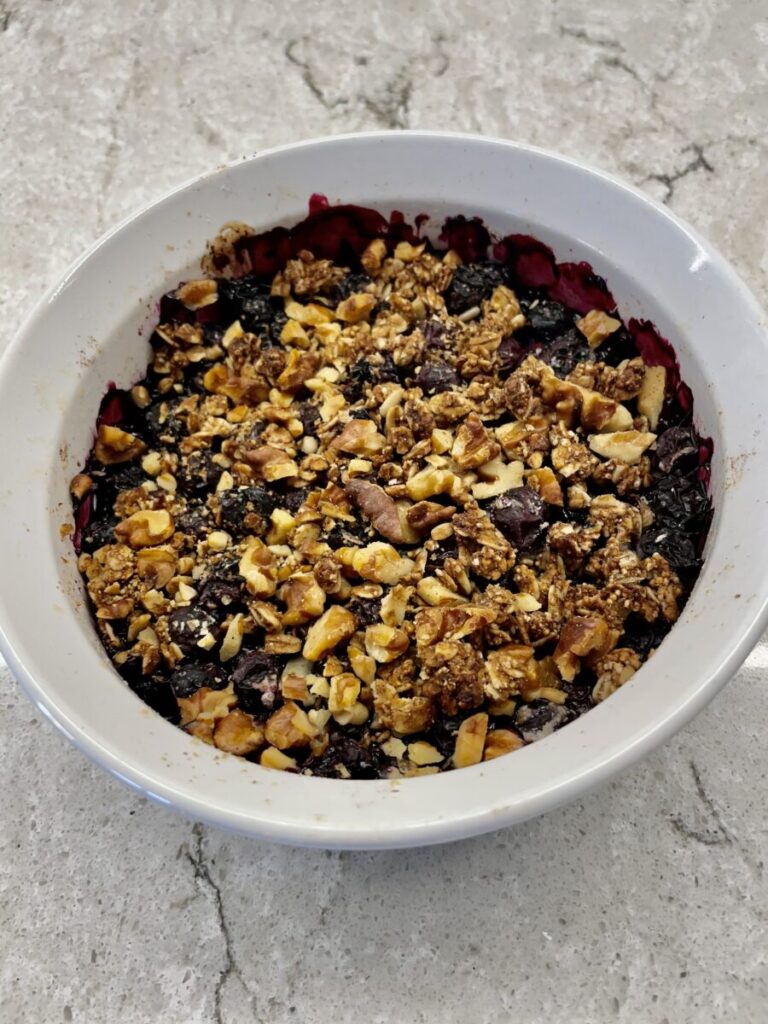 EASY BLUEBERRY CRISP
Gluten free, Dairy free
By Dee Harris, RDN, LDN
Makes 2 servings
2 cups, Blueberries – Raw
1/8 tsp Cinnamon
½ tsp, Lemon zest
1 tsp gluten free flour
1 tsp, Sugar
1/3 cup, Gluten Free Vanilla Almond Granola or any other flavor you prefer
2 TBS., Walnuts- chopped
Preheat oven to 350 degrees.
Grease (I use coconut oil) a small baking dish (that will hold 2 cups). Add blueberries. Mix cinnamon, flour and sugar together and add to blueberries. Add lemon zest. Toss to coat.
Crush granola in a zip lock bag to get out large chunks. Sprinkle on top of berries. Top with walnuts.
Bake for 30 minutes until bubbly. You may serve this plain or serve with a Tablespoon of Coconut Cream topping (So Delicious brand) Best served warm.
Nutrition Facts
Servings 2.0
Amount Per Serving
calories 186
% Daily Value *
Total Fat 6 g
9 %
Saturated Fat 1 g
5 %
Monounsaturated Fat 0 g
Polyunsaturated Fat 0 g
Trans Fat 0 g
Cholesterol 0 mg
0 %
Sodium 9 mg
0 %
Potassium 113 mg
3 %
Total Carbohydrate 34 g
11 %
Dietary Fiber 5 g
20 %
Sugars 19 g
Protein 3 g
6 %
Vitamin A
2 %
Vitamin C
24 %
Calcium
5 %
Iron
5 %
* The Percent Daily Values are based on a 2,000 calorie diet, so your values may change depending on your calorie needs. The values here may not be 100% accurate because the recipes have not been professionally evaluated nor have they been evaluated by the U.S. FDA.